July 11, 2022
INTERVIEW: Gamblers Pick and Dimitriy Mityura discuss emerging technologies and new game releases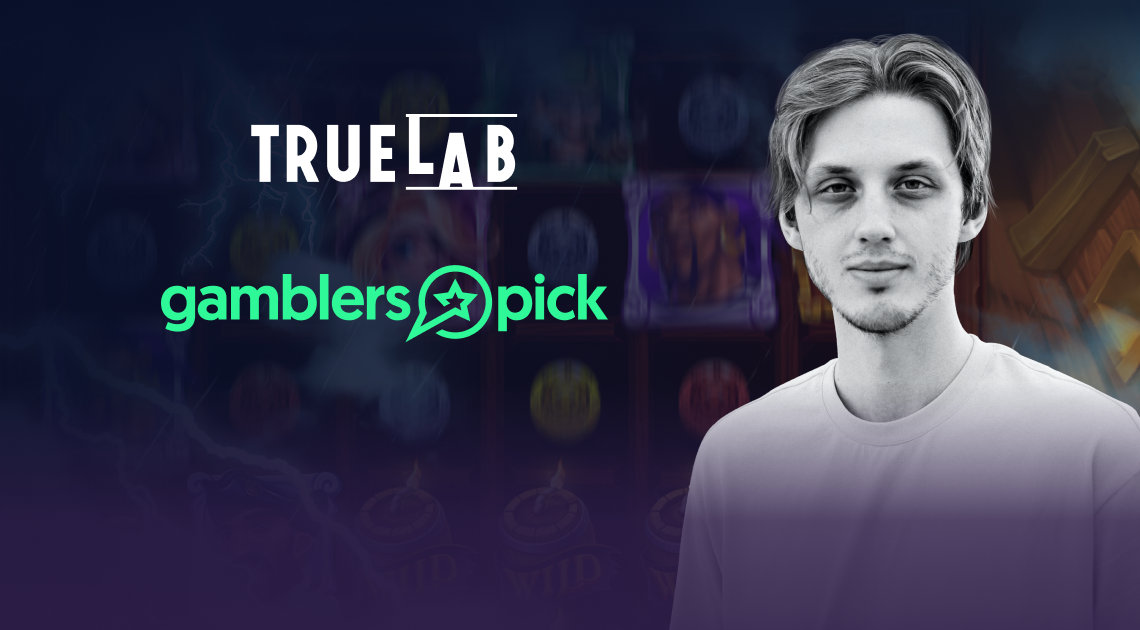 GAMBLERS PICK sits down with Dimitriy Mityura, the Head of Games at TrueLab Game Studios, to discuss emerging technologies, exciting new game releases and the future of NFTs in slots.
GP: Before deep diving into TrueLab's story, could you introduce yourself to our readers and give a little background on the company?
D: My name is Dimitriy Mityura, and I'm the Head of Game Production at TrueLab Game Studios. We are an up and coming game development studio that provides innovative casino slot games with a strong focus on player engagement. TrueLab was founded in 2019 as a new brand in the casino subdivision of the True group. Since then, we've come a long way, creating numerous titles and garnering a solid following of loyal players.
GP: To get new players started with TrueLab games, which video slot would you recommend they play first, and why?
D: I'd probably go for Victoria Wild. It's our flagship slot, and its release put our studio on the map, setting the bar high for all subsequent projects. It's a beautiful looking game with an adventurous spirit, featuring expanding and moving wilds, sticky wilds with respins, and a collection mechanic which leads up to one of the three bonus rounds. The free spin rounds are played in various exotic locations worldwide, adding to the sense of adventure that the character brings to the table. We have the Oasis spins, with full reel-covering Waterfall Wilds playing out in an exotic waterfall location, and Temple spins, where your mission is to collect wilds which open the doors to the Treasure Room, which houses the Wheel of Desire.
The game was very well received, so well that we produced a sequel in Victoria Wild Deluxe, a remaster with tweaks under the hood, including a Bonus Buy option. While on the subject, I can't help but share some exciting news that hasn't been made public yet: a sequel to Victoria Wild inspired by the Wild West is planned for a Q4-2022 release, including a few surprises which I'll delve into later in the interview.
GP: Your library of games proves that you live up to your tagline of "We make iGaming awesome"! What is it about your video slots that slots fans find so engaging?
D: TrueLab's products have an authentic and recognizable face, which means a lot in a highly competitive and constantly developing industry, where new slots are constantly rolling out. We strive to create unique products and go all-in on original ideas. We're big on data and use that knowledge to continuously look for ways to build upon the user's experience by understanding data patterns and extending and enhancing the experience with engagement features and under the hood developments. For example, proprietary features like our Dynamic Reel sets do a splendid job countering poor session value through dynamic reel shifting to improve the odds of better value spins on dry runs based on a scoring system. In my opinion, this kind of innovation is what makes us stand out.
GP: Your slots span many themes and boast some incredible art. Tell us more about the creative process and how you decide on which projects to pursue.
D: A one-size-fits-all solution doesn't exist in the game creation process. An insight, excellent idea or even a request can be a starting point, followed by a selection of mechanics and artistic direction. Sometimes, it works the other way round, when the particular mechanic is the main focus of the slot, and we work from the mathematical framework backwards and see what theme would fit the experience.
Of course, there are always the classics and favourites with themes, which we are happy to go with. Still, we mostly like to come up with original concepts and stories to add extra flavour to our releases, which is a significant factor when deciding on which projects to take on.
Our talented team of artists then works on sketching and bringing the characters and setting to life. The process is hugely collaborative during the production cycle, with ongoing feedback from all across the company, including the CEO.
GP: With mobile casino entertainment's growing value and demand, how big a part of your creative process and company growth projections focus on mobile game development?
D: Data shows that mobile devices continue to grow as the most popular way to access online games, and we will simply follow the trend and prioritize mobile design. While sticking to a mobile-first position, we pay no less attention to the desktop version and strive to make the experiences as similar to each other in terms of quality and experience as possible.
GP: With your passion for data and analytics, what was the driving force behind the decision to become an early adopter of cryptocurrency gambling?
D: The company includes casino brands and was a very early crypto adopter. In fact, before the game studio was launched in 2019, we were involved in numerous crypto-based projects and still are today, so the transition to involve crypto in our games was easy. We believe in the future of the technology and will continue incorporating it into our roadmap, with the next step being NFT slots which will see an introduction in Q4.
GP: In closing, what can fans of TrueLab Games look forward to for the rest of 2022? Do you have any new games or features you would like to tease?
D: We will be significantly expanding our portfolio by the end of the year, with games of various genres and a couple of big projects lined up. We've just launched 'Micropirates & the Kraken of the Caribbean', an explosive 7x6 cluster wins slot featuring cascades, dynamic reels, and a monster wild expanding up to 5x5, which players are absolutely loving.
Looking to the second half of the year, the main project to be excited about is Victoria Wild West. It's the latest in our Victoria Wild series, which will see TrueLab introduce NFTs into the gambling sphere by partnering with True Future to integrate NFT technology into our portfolio of games.
"We've been looking for new opportunities to offer personalized loyalty features to our customers, and this technology allows us to bridge the gap between our product and each user uniquely."
We're currently looking at September for release, so stay tuned for updates on that front!
You are successfully subscribed!